Deadlines for submission of workshop applications are 30 January, 30 May and 30 September.
Workshops at the Lorentz Center
There are currently two types of workshops at the Lorentz Center with a humanities and/or social sciences component:
The NIAS-Lorentz Workshops (NLW) for research that bridges the divide between humanities and/or social sciences and the natural and/or technological sciences.
The SSH Workshops, by which we understand mono-or interdisciplinary workshops in disciplines from the social sciences, humanities or any other field of research outside the natural/exact/technical sciences.
Both aim to produce cutting-edge research through open and informal discussions and stimulating collaboration. Within this framework, workshop organizers are free to decide which format will work best for their needs and their particular project.
Workshops usually last 5 days and are held in either of the two venues at the Lorentz Center, both of which have meeting facilities and offices for all participants. The participants consist of an international group of researchers; typically 40-50 persons for workshops in the Lorentz Center@Oort venue or 20-25 for workshops in the Lorentz Center@Snellius venue. The Lorentz Center provides facilities, organizational support, and partial funding for all workshops.
How to apply
There are three deadlines to submit applications for a Lorentz Center Workshop: 30 January, 30 May and 30 September. The workshop applications should be prepared according to the guidelines shown here and be submitted to draft@lorentzcenter.nl. Applicants are encouraged to contact Henriette Jensenius in an early stage, for information and support on the application. All applications are evaluated by the NIAS-Lorentz Advisory Board and, when applicable, also by specific Lorentz Center advisory board(s). Applicants will be informed within 12 weeks after the submission deadline. The workshop will be held in the period 8 to 16 months after the submission deadline.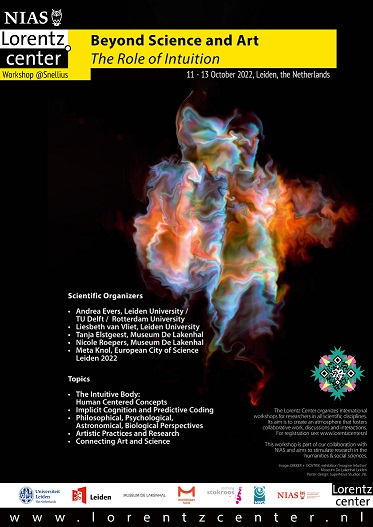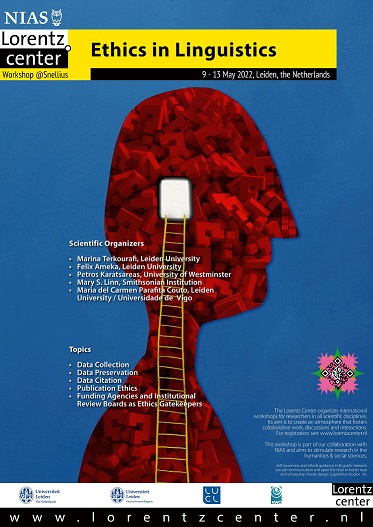 Previous NIAS-Lorentz Workshops
(DNLF) Workshop held as part of a Distinguished Lorentz Fellowship
(LF) Workshop held as part of a Lorentz Fellowship
(NLTG) Workshop held as part of a NIAS-Lorentz Theme Group
2023
The Computational Approach to Neuro-Phenomenology
Agent Based Simulations for Societal Resilience in Crisis Situations
Structuring Magic: Towards a Digital Infrastructure of Texts and Artefacts
Towards reporting criteria for observational communication coding
The Future of Muslim Tech: Prospects and Challenges
2022
Water, Ports, and Culture in Cities and Landscapes
Reimagining Value-Creation in Health and Care
Securing Data in Mesopotamia: New Technologies for Secured Cuneiform Texts
The Power of TROPOMI to Bridge African Science and Policy
Connecting Minds. Integrating models of cognitive evolution
Dynamics of Infectious Disease Spread and Health-related Behaviors
What Makes a Good Theory? Unifying Interdisciplinary Perspectives
Algorithmic Technology for Democracy: From Foundations to Applications
The Audible Universe 2
2021
Complex Dynamic Interactions: Synergies between ABM and QCA
Towards a One Health Approach to Study Leprosy
Securing Data in Mesopotamia: New Technologies for Secured Cuneiform Texts
Artificial Social Intelligence 2021
Explainable Medical AI: Ethics, Epistemology, and Formal Methods
Developing Models of the World 2021
Othering and Polarisation 2021
Accountable Machine Learning Algorithms: what do practitioners need? 2021
The Paradox of Genres in Discourse 2021
Advancing Cross-Professional Work in Education 2021
Perspectives on Scientific Error: Parsing History and Comparing Viewpoints
Enacting Chance: Ignorance, Insight and Intuition
The Audible Universe
The 25 'Great Challenges' in Archaeology through an ABM Perspective
The Politics of Climate Engineering: Arenas, Actors, Governance Challenges 2021
Language Development, Diagnosis and Assessment in School Ages
Communicating Science in a Democratic Society
Stochasticity and Heterogeneity in Life Cycles: Individuals to Populations 2021
The Scientific Conference: Past, Present, and Future
Speech as PII: Ethics & Usability in vis-à-vis with Security & Privacy
Green Conservation Materials for European Heritage
The Turks are Coming! The Popular Outreach of Turkish TV Series
Hack the Hackathon: Shaping the Future of Hackathon Research and Practice
The Future of Mendelian Randomization Studies 2021
2020
Science Based Rules on Plastic: Regulating Plastic Pollution
Positive Affect: Nature, Neurochemistry and Function
Intersectional Analysis of the Sexed/Gendered Brain
Developing models of the world
Artificial Social Intelligence
Accountable algorithms: Industry meets Science
The Paradox of Genres in Discourse
Othering and PolarisationThe Future of Mendelian Randomization Studies
Current debates in forensic statistics
Stochasticity and Heterogeneity in Life Cycles: Individuals to Populations
The Politics of Climate Engineering: Actors, Arenas, Timescales
Modelling of Social Complexity in Argumentation
Space Science for Societal Challenges
Cybersecurity Justice: the Ethics of Exclusion
Previous SSH Workshops
2020
Processing Ancient Text Corpora
Advancing Cross-Professional Work in Education
2019
Risk Regulation and Society
How Countries Learn to Tax; Complexity, Legal Transplants and Legal Culture in Global Tax Governance
Types of Knowledge: Towards a New History of Concepts and Practices
Life and Legacy Studying the Work of Stanley Kubrick
Single Subject Causal Mediation Analysis
The Future of Academic Lexicography: Linguistic Knowledge Codification in the Era of Big Data and AI